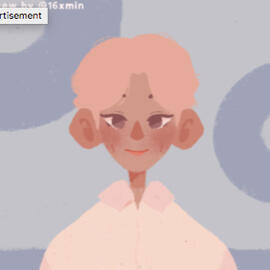 arlo
---
writer, i guess
✰ About ✰
hey! i'm arlo, a self-proclaimed teenage poet and writer from the u.s.!
writing has always been a passion of mine, and i've recently started sharing my work with the world.
in my free time, i enjoy reading, spending time with my friends, and, of course, writing!
i've always loved writing stories, and a few months ago i began writing poetry, which i've grown to love just as much.
i like to write realistic novels and stories about characters i resonate with, and i write poetry about a variety of things.
check out my work on my instagram, twitter, or wattpad!
✰ socials (information) ✰
instagram: poetry only (for now)

wattpad: books and poetry

twitter: poetry and quotes
✰ excerpts✰
champagne boy

you were a
champagne boy
bubbles and sweetness
where others were
roses and smirks
the sharp fizz
of your lips on my lips
the feeling of
my blood turned
carbonated
in my veins
just from your
touch
the spark of golden
in your eyes
the laugh
always spilling
from your pink lips
you were a
champagne boy
with first-world
problems
like the nick
on the door of your
bmw
that showed up
after you took me
to the movies
"netflix and chill
from now on"
you said firmly
i nodded
anything to be
near you
i got drunk
on your musings
the way others
get drunk
on wine and whiskey
i didn't need
wine
i didn't need
whiskey
i had elation
in my heart
and bubbles on my
tongue
from
holding your
hand
you were a
champagne boy
who liked
vintage things
because they
tasted finer
just like
you and i
all the
photographs
we took
couldn't possibly
capture
the glow
of your smile
the sparkle
of your laugh
the simple
effervescence
of your soul
i stored you in
fine wooden chests
the way your
father
stored the
champagne
he said he'd give out
when he became
my father
too
the day never
came
but what did
the world
expect?
you were a
champagne boy
but your fizz
dissipated
bubbles floating
to the surface
one by one
pop
pop
pop
your shine
was somewhat
dulled
by the absence
of your
sparkle
and your
soul
was no longer
so
effervescent
you were a
champagne boy
a fine vintage
but the kind
better stored
than drunk
we left you out
for a little too
long
with the
cork out
and the
cap off
you went bad
flat
poured out
i didn't want to
drink
anymore
sometimes
though
when my
throat is dry
and my
heart is weary
i find myself wishing
for just one last
sip
of my
champagne boy